Indigenous Innovation Ecosystem Gathering
To help build a community around Indigenous innovation, the McConnell Foundation invited CKX to work with them and Indigenous partners to host a retreat on Wasan Island in June 2018. The gathering included Knowledge Holders, artists, community organizers, entrepreneurs, funders, scholars and youth — all with a shared interest in advancing and supporting the work of Indigenous innovation.
With an understanding of the vital importance of centering Indigenous knowledge in the work that we do with and alongside Indigenous communities, we worked closely with Elders to ground the process and hosting with ceremony and and traditional teachings. These included:

Seeking guidance and wisdom from Elders
Elders Mark and Wendy Phillips played an important role as teachers and guides throughout the gathering. They were an invaluable resource to participants both during formal teachings and work sessions, and in conversations during breaks, meals and other unstructured moments.
Honouring and practicing ceremony
The first full day of our gathering was dedicated to teachings and ceremony, including a Pipe Ceremony and Feast. This intentional time together in ceremony allowed us to acknowledge place and build relationships, trust and a common sense of purpose.
Grounding our practice in traditional teachings
Each day started with traditional teachings that set the context and framed our work together. We returned to teachings at key moments throughout the gathering as needed.
While an agenda and facilitation plan were developed, our time and work together were responsive to participants' energy, interests and experiences. We adapted, and at times abandoned, non-Indigenous design and facilitation approaches and practices, such as formal agendas, world cafés, and peer input processes, in favour of traditional Indigenous approaches and practices.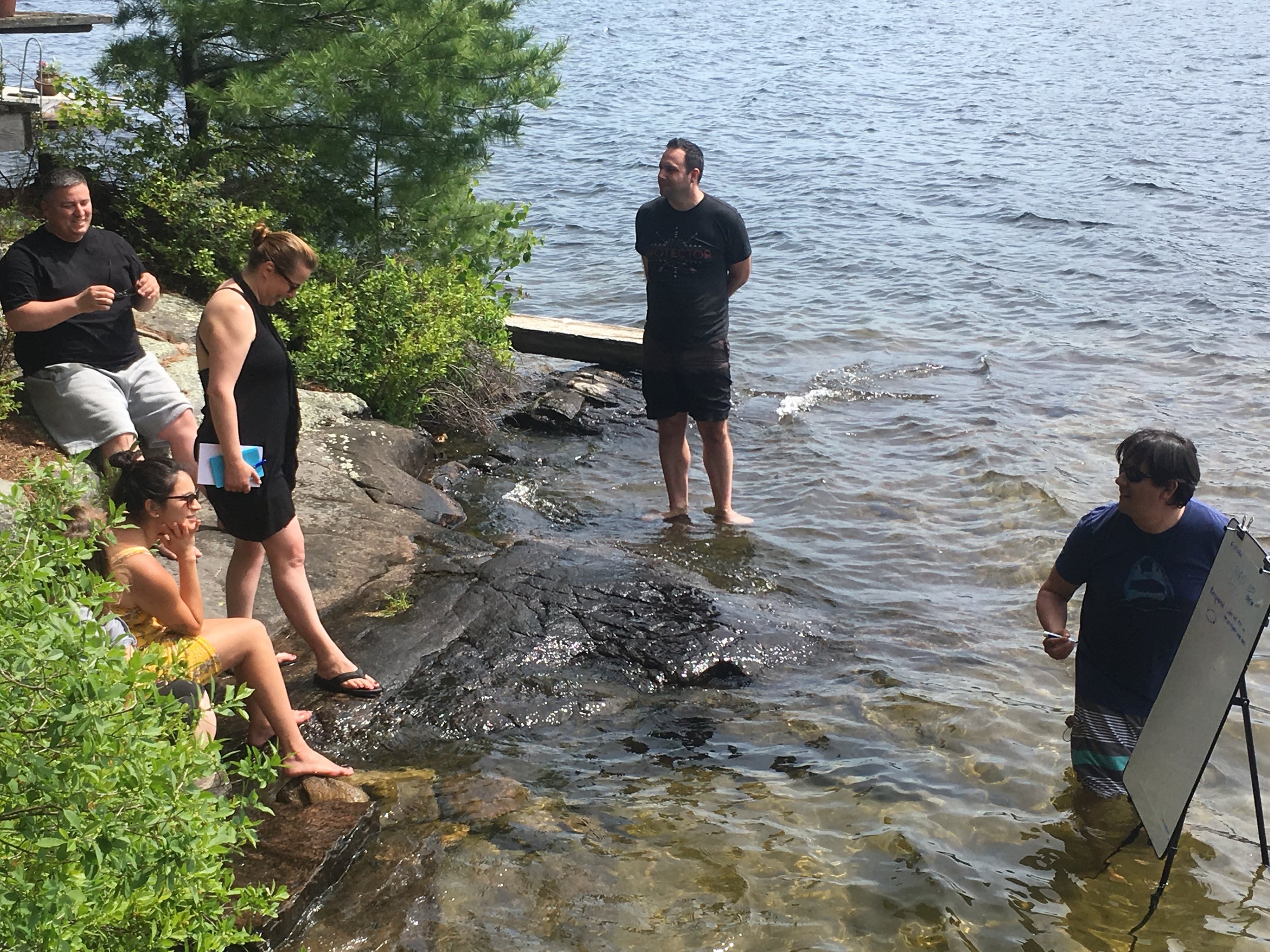 Our conversations were enriched for taking place on Wasan Island, where participants were connected to the land. It was an ideal setting for participants to connect with each other and establish a deeper understanding of the innovation ecosystem.
The retreat affirmed that concepts of innovation are embedded within Indigenous ways of knowing. Solutions for Indigenous communities lie within their teachings and knowledge systems. To be successful, reconciliation and innovation efforts must place traditional Indigenous knowledge at their heart.
We are grateful to Elders Mark and Wendy Phillips, our teachers and guides, whose wisdom and support were crucial to the success of the gathering. They have given us permission to share this story.
We also acknowledge that Wasan Island is located on the traditional territory of the Anishinabe. This territory is covered by the Robinson Huron Treaty (1850) and the William Treaty (1923). The ancestors of several neighbouring First Nations communities live(d) in this area, including Rama (Mnjikaning), Wahta, and Wasauksing (Parry Island). There are three nations represented in the area: the Anishinabe (Ojibway), Pottawatomi and Mohawk.